Main Content
Premium WordPress Content Template Plugin
The Best WordPress
Post Content Templates
Want to see more screenshots? Checkout out our
documentation
!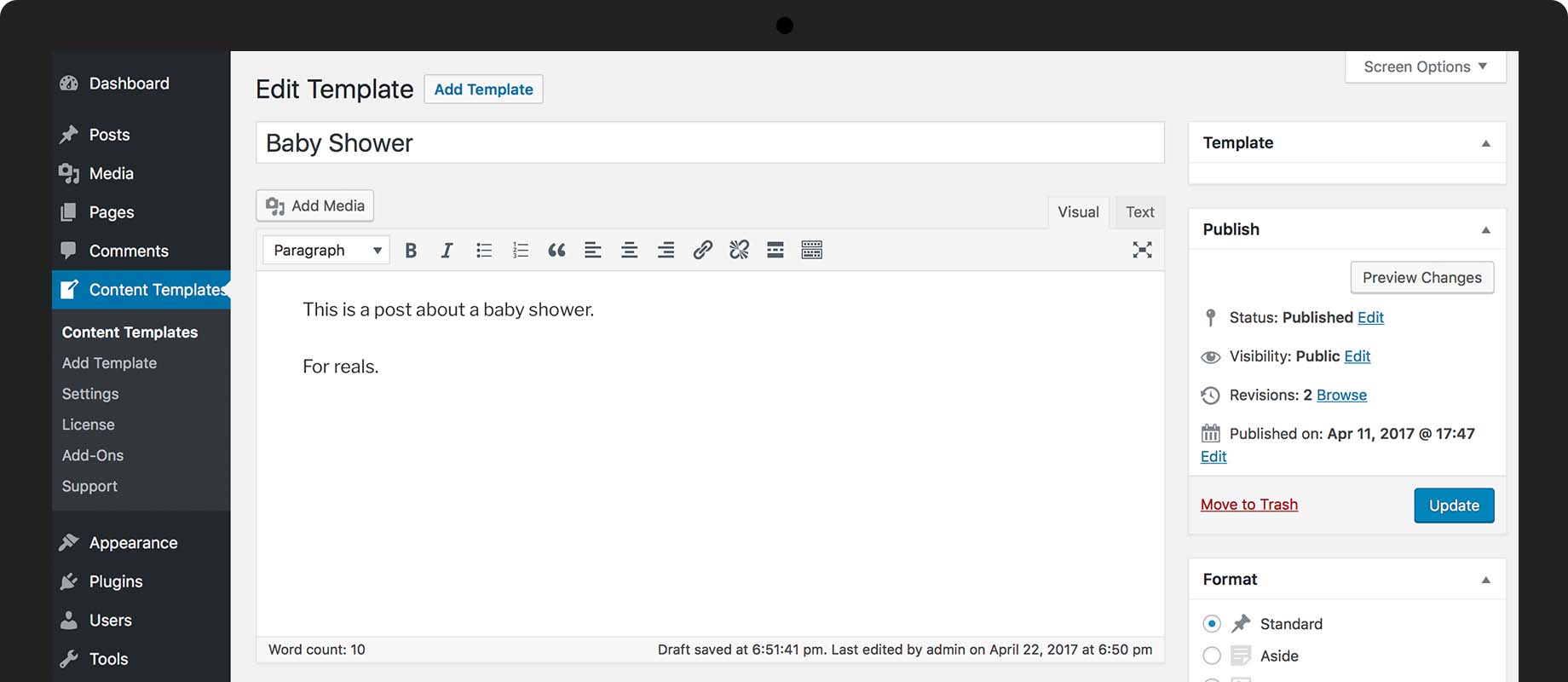 Powerful Features
Create amazing Post Content Templates for WordPress in minutes.
Featured Images
Customize your template with a featured image and other attachments.
Categories and Tags
Set categories and tags that get applied when you use your template.
Custom Fields
Pre-define your custom fields on your post template.
Autoload
Set a specific template to autoload for a specific post type.
Custom Post Type Support
Use templates with posts, page, and any other post type.
Premium Add-ons
Premium Add-ons (for professional licenses) that add special features like custom taxonomies, custom metabox support (from your theme and plugins), etc.
Support
File a support request right from the admin.
Don't Take Our Word For It
"This plug-in makes mine and my co-workers' lives so much easier!"
Sarah - Advanced Content Templates User
Frequently Asked Questions
How does Advanced Content Templates work?
Creating a template is exactly like creating a post or a page. Templates you create can be manually loaded into a post, or can automatically load when you create a new post, page or other post type.
Can I set a featured image on my template?
Yes! If you set a featured image on your template, that same featured image will be set on any posts you create from your template.
Can I tag my template with a custom taxonomy from my theme or plugins?
Custom Taxonomies support is included in our premium add-ons, available to Professional license holders.
Can I insert dynamic content into my templates?
If you would like to insert dynamic content that is populated when template is loaded (such as the current date), we recommend using shortcodes and our Instant Shortcodes add-on, available to Professional license holders.
Satisfaction Guaranteed
45-Day Money Back Guarantee
Give us a try, risk free. We stand by our products 100%.
View Pricing